Becky and Malcolm, 6th November 1996
Last Updated: Fri Jul 30 15:27:54 BST 1999 : to update links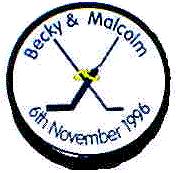 &copy Malcolm Preen 1997
Becky (nee Jacobs) and Malcolm Preen were married on November 6th 1996, having been engaged for exactly one year. What follows is a summary of the planning, the day itself, and a few notes about the honeymoon.
We met, via the UK-Hockey mailing list, in December 1994, for a recreational hockey match involving members of the mailing list at Swindon. Initially there was no romantic inclinations on either side, but we kept in touch, talking about hockey over the e-mail, and occasionally meeting up for games.
The date of the wedding was always going to be set dependant upon the honeymoon, as we were going to the USA and Canada, to watch hockey games. After seeing all sorts of storms, and snow delays in January, we plumped for November.
We had a number of plans - Becky was going to wear a traditional dress, which her Mum was making, and Malcolm was wearing a Kilt, but that was about the only traditional parts !!
Neither of us are "church" people, so we opted for a licensed venue, and we'd recommend Friern Manor Country House Hotel, Brentwood, Essex, ENGLAND, to anyone - brilliant service, great people, a relaxed atmosphere and a lovely setting.
We wanted a hockey theme, and a number of pieces fell into place. The cake was to be a hockey rink - we ended up with a goal, and a pair of crossed sticks, as to get the full rink was too fiddley. I'm still waiting for my marzipan Zamboni (complete with Bride and Groom figures !) [update(8/Jan/97): I was given the Zamboni, without Bride and Groom, as an xmas present - it was delicious !!]
As neither of us are party people, and neither are our parents, and the Wedding was on a Wednesday, we decided not to have an evening do - this enabled everyone to mingle around and talk after the meal before getting away at a reasonable time to get to work the next day.
We didn't have a traditional Order of Service - we had a hockey programme, including the full box score (Bride, 2 mins delay of game etc), player profiles, a "Happy Couple's corner" and a plan of the honeymoon.
We also figured that it was a good idea to have some "specials" done during the photos - we had all the traditional pictures, Best Man and Bridesmaid with the Happy Couple, bride and groom, and again, the parents, Groom's close family , Groom's extended family, but also the arch of crossed hockey sticks, a re-creation of the logo and Malcolm was captured on film with his parents dog, Bruno, as well as the "second ceremony"
We needed placemarkers for the tables, but as you'll have guessed from the above we wanted to be different - so we had Hockey pucks with the Wedding Logo on one side, and a personal message on the other.
An addition on the day was a pair of Hockey bears dressed for the occasion by the Groom's parents.
Second ceremony
All of this was planned in conjunction with Becky's Mum, but we had one final trick up our sleeves ! When we got engaged, we'd joked about getting married on ice, with Becky in the home strip (white) and Malcolm in the away (black) - well, in conjunction with a few friends we designed the jerseys, with our names and numbers, our logo, the date, a honey pot, and a moon (for Honeymoon). And these jerseys were to be worn throughout the honeymoon.

We'd been playing with ideas as to how to introduce them into the ceremony, and managed to get a referee (also a guest at the wedding) to perform a second wedding ceremony.

	Friends, we are gathered here today to witness
		the marriage of Rebecca and Malcolm
	Please Repeat After me:
	I Malcolm, take Rebecca, as my first round draft pick
	To Hook and To Hold,
	At Home and on the road,
	When short-handed, and on the powerplay,
	In the sinbin and on the ice,
	For this and all seasons
	[Repeat above, swapping Malcolm and Rebecca]
	The jerseys please (gets jerseys from Neil and Alex)
	Please Repeat after me:
	(M)	With this strip I confirm my pick, with all
		my saves I thee endow
	(B)	With this strip I confirm my pick, with all
		my poke checks I thee endow
	By the exchanging of vows and the giving and receiving
		of jerseys, Rebecca and Malcolm have confirmed
		their draft choices.
	I now pronounce you, goalie and blue-liner
	You may kiss the Bride

The ceremony is shown in picture sequence, the referee, the Bride's jersey, the hug and The Happy Couple.
The Wedding Breakfast was followed by the traditional speeches from the Bride's Father, the Groom and the Best Man.
As mentioned above - the honeymoon was a tour of the USA and Canada, we were planning to see 4 NHL games, 4 ECHL games and an AHL game.
Most of the tickets were arranged by friends from the internet in the approriate cities, and with one exception it all went very smoothly.
We flew into Detroit, drove to Toledo, saw two games (Johnstown and Mississippi), returned to Detroit, missed the game (Tampa Bay) we were meant to see, then proceeded to Buffalo (Florida), and Toronto (Hockey Hall of Fame) before returning to Detroit (Wings v Colorado on TV). We then took to the air, and visited Dallas (v Anaheim), and St Louis (v Anaheim) before a couple of days off in Chicago visiting relatives.
The final leg saw us fly to Raleigh-Durham, and attend games in Roanoke (v Charlotte), Greensboro (v Baltimore) and Raleigh (v Roanoke), before returning to the UK via Detroit.
All in all we really enjoyed the whole experience. It was hard work but to see all the friends and family having fun was great. I think we'd recommend the midweek winter wedding to anyone - we were able to get good deals all over, and not have panics about availability.
---
For more info E-mail